Yesterday I was early getting to my show in Amity at Samuel Robert Winery so I thought I would take a few moments to visit a new winery.
Nestled on the southern edge of the Granary District in an old bank building sits
Elizabeth Chambers Cellar
. I was lucky to come on a hot day when not many folks were out and about so I had the place to myself.Janna Renner and Kacie Copeland were there to keep me entertained.
They started me with a bright crisp Gris that surprised me with its clarity and tropical fruit. The finish was nice and had soft white fruit and just a hint of hazelnut.
Next was Freedom Hill Pinot Noir. I have been tasting wines long enough to know some of the characteristics of wine grown in sedentary soils and this one shows them off very well. Drink now through 2019
From their web page:
Located in Polk County some four miles west of Highway 99W and five miles northwest of Monmouth Freedom Hill Vineyard occupies a gentle southeast slope. We believe the southeast aspect is critical as harvest nears because the early sun helps the dew dry from the grapes and take advantage of the dwindling heat of fall. Our elevation is 350' to 600' allowing for cold air to drain to the valley floor yet low enough to benefit from heat radiated from the valley.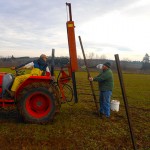 The soils are sedimentary, uplifted seabed, generally seen to be among the oldest in the region. We believe the distinctive character of our soil coupled with the microclimate and meticulous farming practices produce a product of considerable structure that age exceptionally well and create consistent, structured and powerful wines.
This wine is almost too good. All the berry and spices flavors come leaping out of the glass at you. I want this one with red meat and dark chocolate.
The next wine, the Lazy River Vineyard Pinot Noir, nearly took my nose by surprise! BIG morel, earth, dark rich ripe fruit and deep dark earth came tumbling out of the glass. I was hesitant to taste but when I did the rewards were sweet and soft with undertones of mint and high notes of sweet herbs. This is a keeper and will age beautifully. Drink now through 2021.
From their web page:

Just three and one half miles from Yamhill, Oregon is The Lumpkin Family's Lazy River Vineyard, 146 acres hidden from the road. From the top of the hill one looks down to the mixed terrain, interlocking puzzle pieces of woods, rolling meadows, grape vines and ponds. The land is separated north from south by a meandering small river, which by August hardly moves.
The vineyard is a bench of predominantly Jory soil, unusual outside of the Dundee Hills. Planted are 30 acres of Pinot Noir and three acre of Pinot Gris. On the far western edge of the hill in three acres of Stony Ground soil is Riesling. First to be cultivated on the east side of the property were eleven acres of Pinot Noir in 2000. First harvest took place in 2002.
Lazy River's manager is Wallace "Buddy" Beck of Advanced Vineyard Systems. The site manager is Angel Martinez. Owners are Ned and Kirsten Lumpkin, Francoise Neuville and The Lumpkin Family.
Last on my list was the Temperence Hill Pinot Noir. Sharp, bright red fruits in the nose and a long dark fruit and a hint seven spice on the pallet with a soft pleasant finish of minerals and soft fruit. I would let this one lay down for a couple of years and develop a bit. Good now, Great in a few years.
T

emperance Hill Vineyard is a 100-acre certified organic vineyard made up of roughly 20 different blocks of
wine grapes. The site itself is 200 acres (lots of room to grow) in the west Eola Hills, just west of Salem,
Oregon. It has an elevation range of 660 to 860 feet making it a cool, late site; excellent growing conditions
for Pinot Noir. The soils are predominantly Nekia, Rittner and Jory. The site is thought to be the remnants
of an ancient volcano and grapes are planted on many different slopes with varying exposures.
80% of the vineyard is planted in Pinot Noir, the rest is made up of Chardonnay, Gewurztraminer and
Pinot Gris. The oldest vines at Temperance were planted in 1980 and 81 and are on a hanging trellis system.
The more recent plantings of Dijon clone material are on a single upright vertical trellis system.
The latest plantings are on a single arm Guyot system and have 1550 vines per acre. Some of the blocks in
the latest planting are Dijon clone Pinot Noir and some are Pommard clone.
I found both Kacie and Janna to be very knowledgeable and helpful and look forward to visiting again. For more info and hours click here.